Episodes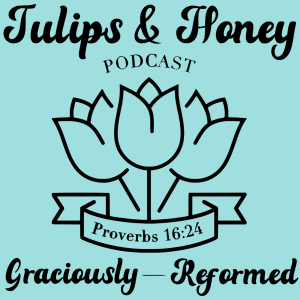 Monday Jan 24, 2022
Monday Jan 24, 2022
On this new Tulips and Honey episode, Lauren and Kristin answer your questions on Christian yoga, idolatry, worship, angels and Satan, Adam, Genesis, sin, and the person and work of Jesus.
What You'll Hear on This Episode
The dangers of Christian yoga.
The danger of blending other religions with biblical Christianity.
The danger of idolatry
What biblical worship is and why it matters.
Christian Liberty and celebrating the Holidays.
The nature of violence in the Old Testament.
Adam, sin, and the person and work of Jesus.
The nature of angels and Satan.
Asking theological questions and humility.
Recommended Resources Mention in This Episode
Link to Kristin Everett TikTok: https://www.tiktok.com/@xtin.rose?
Subscribing, sharing, and your feedback You can subscribe to Tulips and Honey via iTunes, Google Play, Spotify, or YouTube. If you like what you've heard, please consider leaving a rating and sharing it with your friends (it takes only takes a second and will go a long way to helping other people find the show). You can also connect with me on Twitter at @LaurenHereford, on Facebook, Instagram, or via email to share your feedback.
Thanks for listening to this episode of Tulips and Honey.