Episodes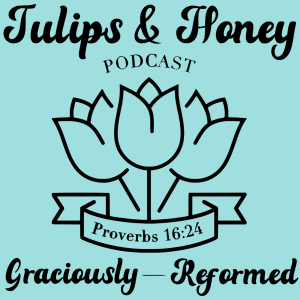 Monday Jan 04, 2021
Monday Jan 04, 2021
Being a homemaker is difficult, being a thankful homemaker? That takes the miraculous work of the Holy Spirit sanctifying believers! Today I'm joined by blogger/podcaster Marci Ferrell from The Thankful Homemaker, a podcast under The Bar Network. We talk about her testimony, her journey to writing and podcasting, teaching women theology, and so much more! 
13:00 - What came first the blog or the podcast?
15:30 - When did you start up a YouTube?
17:50 - How did you choose your name?
21:30 - Who is your favorite teacher or preacher?
25:40 - How important is it for women to learn theology and why?
31:45 - How can we practically teach theology to our children?
37:55 - Do you recommend men listen to your podcast since you teach through Scripture?
44:15 - Tell us about your new Bite Size episodes?
48:15 - You're doing a series right now on the Sermon on the Mount, what prompted you to do this?
53:00 - After this series, do you have any plans for next?
58:00 - What kind of encouragement do you have for someone considering starting a blog/podcast/YouTube?
01:02:30 - How can the listeners be praying for you?
For more information and to find Marci online: Thankfulhomemaker.com
Links from Marci: Finding Forgiveness After an Abortion - https://thankfulhomemaker.com/finding-forgiveness-after-an-abortion/
Sermon on the Mount Podcast Series - https://thankfulhomemaker.com/category/christian-living/sermon-on-the-mount/
My Daughter's Website - Amber Ravatsaas - https://amberravwrites.com
Links for more information about The Bar Network: http://thebarpodcast.com/index.php/the-bar-network/
Check out the other epic podcasts there! 
If you'd like more information about Tulips & Honey check out my website: 5Solas.Online
My blog over at: https://www.wordpress.com/biblicalbeg...
My store: https://shop.spreadshirt.com/tulips-h...
or my Patreon here: https://www.patreon.com/Tulipshoneyhub  
For questions, comments, recommendations, prayer requests, you can contact me on social media or via my email biblicalbeginnings@outlook.com